Free annual report: PV O&M cost reduction strategies
Falling solar and wind costs have raised the importance of O&M efficiency and accelerated competition in O&M services. It's known that O&M can have a strong impact on the profitability of a project, but how can owners reduce costs while maintaining quality and safety?
To help you find the answer to this question, New Energy Update included viable O&M cost reduction strategies in their annual report.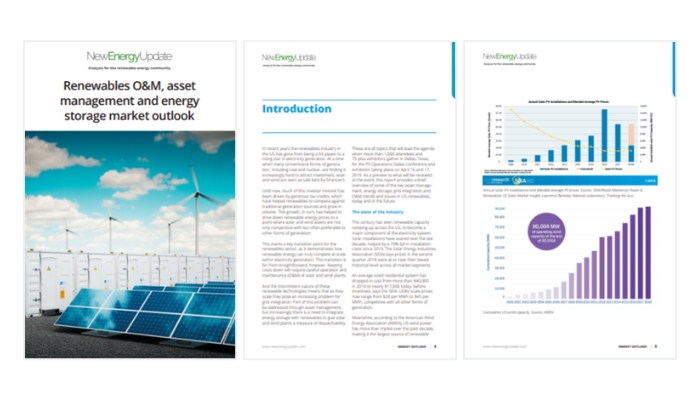 Check out this free 30-page report featuring PV + Battery Storage Technologies and Applications to Maximize Profits.
Here's what you'll get:
Understand how optimization of O&M processes can reduce costs by up to 20% and lead to a 50% cut in downtime
Find out how utility-scale energy storage installations are also on the rise as operators seek out new revenue streams in increasingly-connected markets.
Explore how increasing cost competition and performance demands are prompting new contract terms between inverter suppliers and PV operators which prioritize long-term reliability and share revenue risk
Download the report for free here
If you're interested in this topic, you might want to know about PV Operations Dallas 2019 April 16-17, that will champion the efforts of key leaders at Cypress Creek, Duke, Enel, Southern Power, EDPR, Engie, Shell New Energies, Liberty Power, Invenergy, SunPower, Vivint Solar, Nautilus Solar and many others, to help you define your O&M and asset management strategies for max asset profitability.
Best regards,
Diana
For more Information Contact:
Diana Dropol
Project Director – PV Operations Dallas 2019
New Energy Update
E • diana@newenergyupdate.com
T • +44 (0)207 375 7528 (Direct)