Innovative wave energy project secured £2.5m
An Innovative project in Scotland to develop a system that transforms wave energy movement into electricity that has clinched £2.5m by Wave Energy Scotland (WES).
The magnetic gear project is spearheaded by Banchory-based Ecosse Subsea Systems in collaboration with Bathwick Electrical Design, Supply Design and Pure Marine Gen. The University of Edinburgh and Applied Renewables Research Ltd have been sub-contracted to provide additional support.
The project has been finalized by WES for the final stage of its Power Take Off (PTO) programme, aimed at developing solutions to convert the movement of waves into electricity. The system is being developed to suit a variety of wave energy converters.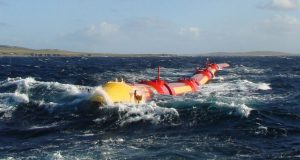 Minister for Business, Innovation and Energy, Paul Wheelhouse said: "Sustained funding from the Scottish Government has allowed Wave Energy Scotland to provide opportunities for Scottish companies such as Ecosse Subsea Systems and Supply Design to participate in this unique initiative and develop the disruptive technologies that will shape our low carbon future."
Tim Hurst, WES Managing Director, said: "I am delighted to see Ecosse Subsea Systems' innovative project reach the final stages of the programme. It's this kind of innovation and collaboration that is behind Scotland's status as a global leader in the development of wave energy technology."