PV Operations Dallas 2019 (April 16-17, Texas) – O&M, Asset Management, Energy Storage
PV Operations Dallas 2019 (April 16-17, Texas) is the world's premier event for wind O&M and asset management business leaders, project stakeholders and service specialists.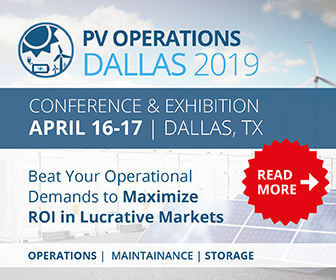 PV Operations Dallas (#PVDALLAS) co-located with Wind Operations Dallas – will draw together 250+ PV operations executives (out of 1000 solar, wind and storage executives) and 75+ exhibitors on April 16-17 – it's the world's largest networking (and North America's first and only) platform for PV, wind and storage challenges and opportunities.
Renowned as North America's most significant business meeting place for Wind O&M and Asset Management professionals, this is where the industry comes to learn, network and do business. It's the preeminent hub for the very latest insights, cutting edge tech and executive perspectives you need to reduce LCOE, increase AEP and drive up wind portfolio revenue.
Attended by top executives from asset owners such as Engie, Cypress Creek Renewables, Southern Power, Shell New Energies, Invenergy, BayWa Re, EDF, Duke Energy, E.ON, NextEra, SunEdison, Enbridge, Innergex, as well as O&M providers and many more it's the top destination for major PV  stakeholders over the globe to plan for exceptional future PV operations and investments.
You'll network with like-minded executives and hear insights from owner-operators, O&M and asset managers, innovative utilities, investors, IPPs, developers and tech innovators at PV Operations Dallas 2019.
Texas holds more opportunity than ever before for solar, wind and storage. Making the most of the surge in demand and advances in the PV market, businesses must have the right business plan and information on PPAs & Pricing Structure, Interconnections and Regulation, how PV costs are changing and how this will affect an asset owner's operational PV plants and their overall profitability. PV Operations Dallas 2019 will give you the element that would balance the use of innovative technologies, sharing of project costs and risk allocation for the project's success. Contact Diana Dropol on diana@newenergyupdate.com to find out more or request to be involved.
Register early – the event is expected to sell out. More info: PV Operations Dallas 2019 Event Website.