SMA Commissions 1.8GW of Solar Inverter Power for Projects in Australia in 2018
SMA Solar Technology AG (SMA) will have commissioned 1.8GW of solar inverter power in Australia in 2018. This brings SMA's total utility-scale PV power plant installation base in Australia above 2GW. With this achievement, SMA has succeeded in offering system solutions for utility-scale PV plants in all states and territories on mainland Australia.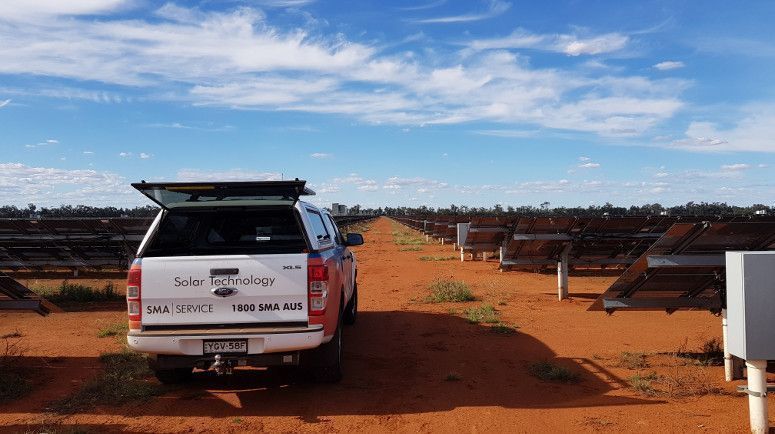 "Industry trends suggest that solar power systems are becoming a key player in energy production in Australia, both in households and in large-scale PV power plants, "said John Susa, Executive Vice President, Sales – APAC / North America. "In the month of September alone, over 1GW of SMA central inverters were actively commissioned. We are very proud to announce that SMA system solutions are thus installed in PV plants in each state and territory on Mainland Australia. The uptake in the utility segment has added 10 permanent staff members to our local service team in Australia and has resulted in 15 additional local employees being subcontracted to work on these projects for the duration of the plants' life."
Almost all of the utility-scale PV power plant projects in Australia rely on the SMA Medium Voltage Power Station. This turnkey solution includes Sunny Central inverters, a powerful medium-voltage transformer and a medium-voltage switchgear, is easy to transport and allows for fast commissioning. In addition to advanced system technology, SMA also provides first–class service for utility-scale power plants. Local SMA experts inspect the installation of inverters and medium-voltage components, set up required and plant-specific parameters and perform comprehensive function tests to ensure systems are stably connected to the grid and work smoothly from the outset.
SMA Australia began operations in 2007 and provides a range of solutions for centralized and decentralized PV power plants as well as for residential PV applications and PV hybrid projects. With a team of 54 employees without temporary workers, the company also supports planning, design, engineering and project management as well as installation and commissioning of its solutions.