Siemens and Chromalloy form joint venture Advanced Airfoil Components
Siemens announced that it has entered a partnership to form a new joint venture called Advanced Airfoil Components. Both companies will be investing approximately USD130 million in combined value to create the new production facility.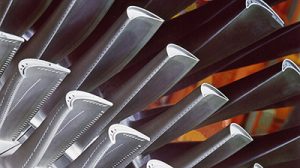 The primary scope is turbine blade and vane cast components for power generation. The groundbreaking of the new manufacturing facility is scheduled to take place later this year. The location is being finalized and multiple southern states are under evaluation. The facility is scheduled for completion in the fall of 2018. The stand-alone manufacturing plant will supply only to Siemens. Start-up part qualifications and production shipments are in process at Chromalloy's existing facility.
Siemens Power and Gas Division CEO, Willi Meixner said that the decision to form a joint venture and a new production facility continues our strong commitment to the US as a business location. Siemens has a strong footprint in the US with more than 60 manufacturing sites and approximately 50,000 employees. In the last 15 years Siemens has invested USD40 billion in the United States. "Siemens and Chromalloy already have a long-lasting supplier relationship. Their new joint venture will exclusively supply Siemens with casting components for their gas turbines. they will continue their established key casting supplier partnerships and all the existing long-term agreements will be executed.
Chromalloy President, Carlo Luzzatto said that Chromalloy is excited to take their relationship with Siemens to the next level. Continuing to build their partnership is very important and shows the value they place in each other's capabilities and expertise. Chromalloy continues to be a leader in providing innovative, high-technology manufacturing capabilities for gas turbine engines. And they are excited to bring those capabilities to help create and grow this new business with Siemens.
---
Image Source: Siemens