Saudi Aramco signed two separate memorandums of understanding with ADNOC (Abu Dhabi National Oil Company) and Masdar on energy and technology collaboration. According to the MoU the two companies will collaborate on identifying technologies that could deliver improved operational performance and efficiency across the oil and gas value chain.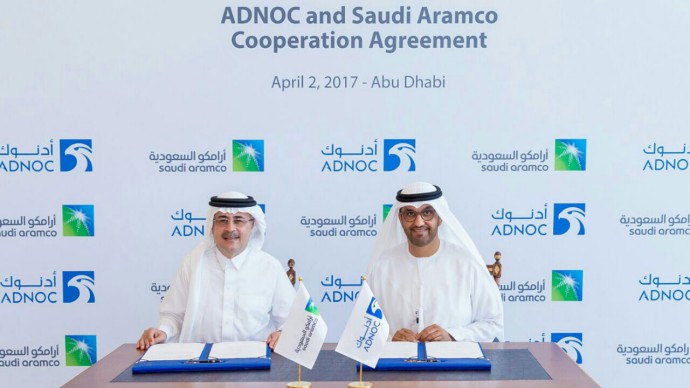 The MoU was signed by H.E. Dr Sultan Ahmed Al Jaber, UAE Minister of State and ADNOC Group CEO and Amin H. Nasser, President and CEO of Saudi Aramco.
Saudi Aramco also signed a MoU with Masdar  According to the MoU terms, Masdar and Saudi Aramco will collaborate on sustainable development and renewable energy, in order to yield advancements in clean electricity generation, and carbon capture for Saudi Arabia, the UAE and the world.
The MoU was signed by Yasser Mufti, Executive Director for New Business Development at Saudi Aramco and Mohamed Jameel Al Ramahi, Chief Executive Officer (CEO) of Masdar.
---
Image: Saudi Aramco CEO Amin H. Nasser and H.E. Dr. Sultan Ahmed Al Jaber, UAE Minister of State and ADNOC Group CEO signed an MoU on energy technology collaboration at ADNOC headquarters in Abu Dhabi, April 2, 2017. (Source: Saudi Arabian Oil Co.)