Cooperative Energy and Origis Energy commemorate launch of 52 MW Lamar County Solar Site
Cooperative Energy and Origis Energy commemorated their joint venture 52-MW solar project in Lamar County signalling a major dedication to generating eco-friendly renewable energy.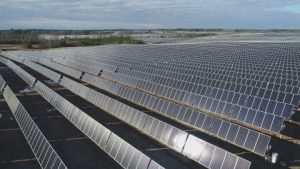 he 540-acre site, MS Solar 3, includes 206,000 polycrystalline solar panels which gather sunlight and transform it to energy that will power up to 11,400 homes. MS Solar 3 uses the best, most efficient solar technology available. Origis Energy built, owns and operates the facility while Hattiesburg-based Cooperative Energy has agreed to purchase all electricity the plant produces. Cooperative Energy is a not-for-profit, Member-owned generation and transmission cooperative that supplies electricity to 11 Member cooperatives that stretch from the Gulf Coast to the Tennessee line.
Jim Compton, Cooperative Energy's president and CEO said "Not only is it one of the largest solar generation plants in Mississippi, it employs the most advanced solar technology available today."