European Fuels Markets & Refining Strategy Conference
European Fuels Markets & Refining Strategy Conference
Date: 27th March 2019 – 28th March 2019 Location: Frankfurt – Germany
Already on the 3rd edition of successful series, ACI's is pleased to announce the next edition ofEuropean Fuels Markets & Refining Strategy Conference set in Frankfurt, Germany, on the on the 27th and 28th of March.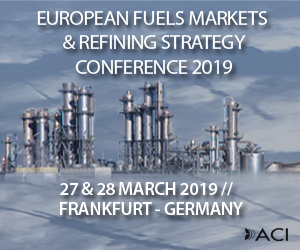 The event will bring together senior executives and experts from the refining industry, policy makers, consultants, technology innovators and leading market analysts to discuss the latest challenges and developments within the industry.
The two day event will give you an insight to the industry`s latest regulations impacting on refining sustainability, global transition in energy trends & future forecasts on fuel demand, export & trading activities. In depth insights into the European `Vision 2020 – 2050`, MARPOL regulation & impact of Electric Vehicles will provide a solid background for the two days discussion on best solutions for refining in Europe.
During the afternoon of Tuesday 26th of March 2019, a limited number of conference attendees will receive a unique opportunity to visit MIRO Refinery in Karlsruhe, Germany. The plant is the largest oil refinery in Germany and one of the most advanced and powerful in Europe.
For More Info & Registration, please contact:
Marcin Janecki
+48 61 646 7047
mjanecki@acieu.net